I have already posted about the exterior of my home so I thought that now I would offer a glimpse inside! Our house is a 1923 Craftsman Bungalow located in a historic district. We have been featured in our community's annual home tour twice in the 8 years we have lived here! One of the favorite rooms in our house is our guest bedrooom. I have done it in a cottage style using mostly garage sale finds and other things I have picked up in thrift stores or antique shops.
I have used Wicker chairs for the seating area that I picked up on sale at Pier 1. The white iron bed was a garage sale find over 25 years ago for $30!! I made the pillows and table cloth -it is actually covering a yellow pottery barn table a garage sale find for $15!! The window treatment is a tablecolth draped over a white pole type rod. The lace curtained entryway is the "dressing room" - more on that later!
Now for some of the accessories in the room :
The little purple shelf has some fun teacups and some bird eggs. I found the chandalier at a yard sale for $5 and had the hubby rewire it and I covered the mini shades. The wicker chairs sign was a bargain I picked up at work ( I work on a store with a ton of home accessories- LUCKY ME!!) The clock was a thrift store find and the wicker frame and postcard I picked up at a yard sale and redid. And last but not least, the wicker planter was also a yard sale find and the geraninums were an end of summer closeout at work!!
This is inside the dressing room area- I know the ugly dresser needs to be painted! It will when the weather gets warmer. This area also has a wicker chair, a coat rack, mirror, and a small wicker coffee table used as a luggage rack.
This vanity table was a Christmas gift from my husband years ago. I still sit here every morning to do my makeup!!
Some info you also might be intersted in:
The purple floral fabric used inthe room is "Sweet Violets" by Waverly. It is discontinued but you may find some around.
The green paint is Willow #wv34008 from Waverly Home Classics at Lowe's.
I hope you enjoyed looking inside my guest room. I would love to hear your comments!!
Kari
Linked to:
poppies at play home tour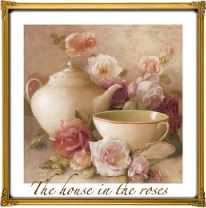 <